One of the most critical aspects of building an online presence is having an email list to do email marketing.
An email list shall be approached as a project itself since its challenging and requires planning.
For this reason, we choose to gather a list of the best email list building software providers, Including Free ones.
If you are blogging beyond 2020 and do not have an active email subscriber list, you are missing out on an incredible transactional potential.
Building lists is the basis of any customer-based business. We have CRMs software that sole purpose is to build, manage and facilitate lead capture and management.
As business owners, we all build up a list of potential customers from product to service companies that we call to lead.
According to HubSpot, email marketing is increasing.
"78% of marketers have seen an increase in email engagement over the last 12 months."

HubSpot
However, building an effective list is not easy. Getting good leads and keeping them engaged through email marketing can be time-consuming and challenging.
I've done some research, and based on my analyses here; I have a list of the best tools to build, interact and maintain an email list.
In summary, want to go directly to my top picks? The best list building tools I recommend are OptinMonster, Optimonk, or Hello Bar
First of all, when I started my blog and had little or no resources to invest in an email lead generator tool, Optin was my friend. "Best bank for the buck" and professional customer service.
Optin Monster has been on the market since 2013, a company that has been on the lead capture and marketing automation business for so long has to be doing something right.
This application really knows how to generate leads to add to your campaigns. Optin constantly updates its software for bugs, new features, or simply ease of use! I honestly encourage you to give it a try.
Moreover, Optinmonster has more than 100+ templates to choose from and offers many list-building capabilities such as" floating bars, popups, scroll boxes, etc.
Finally, it includes live stats and A/B testing, allowing you to run several list-building templates to see which one performs better.
Optin Monster capabilities
Optimization of your campaigns based on campaigns analytics
Retargeting of email prompts
Also, seamless integrations with other tools Such as Mailchimp, Salesforce, Shopify
Detail targeting of your campaigns (Demographics)
Inactivity Sensor detects when a person is not engaging with the web page, prompting and recapturing the user's attention.
Pricing
Basic: $9 per month
Plus: $19 per month
Pro: $29 per month
Growth: $49 per month
Outgrow is easily the most interactive tool out there this year. It has contests, surveys, giveaways, and quizzes capabilities.
Nowadays, the content creator that has the more appealing and interactive quizzes or other kinds of content is the one that has the competitive advantage.
Think of it as a list generation tool or interactivity management system. 
Outgrow goes great with landing pages because it can make them more interactive and engaging. It is proven that interactive landing pages have higher retention rates than pages that just ask for contact details in a plain way.
Some of Outgrow key lead generation features include
Trending templates capabilities provide 1000+ templates to create content and not written polls or emails.
Plug-and-play. Some email list building stools requires some coding; Outgrow does not; a drag and drop editor allows you to set up templates between minutes.
Intelligent Analytics and Data Integration. Outgrow provides audience data analysis to evaluate and predict the best strategies.
marketing automation features
Pricing
Freelancer plan limited: $14 per month
Freelancer plan: 25 per month
Essentials plan: $95 per month
Business plan: $600 per month
Give Outgrow a try
Mailchimp list management has been around more than most of this list building tools and it's definitely a safe choice if you dont have particular needs.
Key Features
Easy to use email templates: These templates are useful when you are not the most creative
Training libraries: MailChimp is one of the only list management that has an extensive
Suitable for business email lists: Extensive and detailed features to design automated journeys to guide CX experiences. Excels on the business level.
Pricing
Free:$0 per month
Essentials: $11 per month
Standard: $17 per month
Premium: $299 per month
Mailchimp, a list management tool, is a classical and self-service-focused tool! Great place to start learning and use a free agency at the begging, but not the best when you scale to more than 10,000 emails or users a month.
Best for targeted popups and high prospect conversion.
Another great option is SleekNote; this list building tool works best for pop-ups. You can show Giveaway Popups, discount pops uPS, and newsletter popups. The only limit is your creativity.
In addition, I recommend SleekNote for beginners because it is user-friendly. The customer support is excellent, and it even has a section of the page dedicated to tutorials and uses cases of Popups campaigns to build the best email lists to build your authority.
If speed is your priority this drag and drop builder will provide you with the speed and ease of use that you need.
The capabilities that make SleekNote one of the best contact list building software are:
Smart Trigger: Unique capability that helps you target qualified prospects according to your preferences and guide them through your funnel in a more personalized way.
Lightweight design keeps your landing pages lighting fast
Mobile Friendly
Excels at promoting on-site.
Pricing
Lite Plan: $49
Basic Plan: $59
Plus Plan: $114
Pro Plan: $225
Premium Plan: $369
*All plans offer a free trial for you to see the results before committing your resources.
Get Started with a free trial with SleekNote
Best Email capture plugin
Bloom is an email list building plugin with elegant themes, which works perfectly for you if you use their theme.
Moreover, Bloom has a beautiful and intuitive interface making its use fast and effective.
This list-building plug-in comes with great pre-made templates and works best with WordPress to facilitate your email marketing tasks.
It does have the downside of not being a drag-and-drop system like the others on this list.
Key features of this email marketing plugin
Endless customization. Blooms know branding is essential to creating your brand. The ability to customize gives you the ability to be unique.
Timed triggers: You can configure the popup or form to show after any given time, making it less invasive for the user.
Inactivity trigger.
Advance account management and lead targeting.
Import-export capabilities: If you already have a list of emails, you can import it to bloom in a few clicks.
Bloom offers six different types of opt-in contact forms.
Pricing
Yearly Plan: $89 per year
Lifetime: $249 per lifetime
Give Bloom a test run
Thrive Leads is a digital marketing list-building tool that offers many options for building email lists: Contact forms, Lightbox, Post Foote, Ribbon, screen filler, and scroll mats.
This software is one of the fastest and most lightweight email list management tools on the market.
Also, since it is part of the thrive themes ecosystem, you can get them in a package and save some costs.
Features
Thrive leads has beautiful and appealing forms
Easy to use and has a low learning curve
Incredibly detailed statistics and conversion tracking
Optimization of forms: You can optimize the best performing forms with the form conversion statistics.
Thrive leads offer a comprehensive report dashboard on Impressions, conversions, and CTR based on your site visits, pretty useful if you are planning to do some marketing automation.
A/B testing: If you dont test several forms, you won't know which one works best with which lead.
Do not need coding knowledge
Pricing
Thrive Suite: $299 per year
Thrive Suite: $97 per year
Both plans give lifetime updates, customer support, installation, and a 30-day money-back guarantee in case you dont feel satisfied with the product.
Picreel
Picreel is one of the most popular and easy-to-use popup builder tools out there that relies on its advanced features and beautiful popups to collect contact information from website visitors.
The tool offers over 100 built-in popup templates that you can customize from top to bottom and create stunning-looking popups such as exit surveys, newsletter popups, lead capture forms, and much more.
Picreel also comes packed with advanced targeting and triggering capabilities that allow users to only gather information from the relevant people while improving the effectiveness of their marketing campaigns. You can also set up A/B tests within the tool itself and test the effectiveness of your campaigns with real users.
Picreel capabilities:
Create personalized popups, discount offers, surveys, and nano bars with the help of the intuitive visual builder.
Show your popups only to the right people based on their behavior, scroll action, and more with advanced targeting.
Build beautiful-looking popups within minutes with the help of 100+ built-in templates and design customization.
Track your popup's performance using the detailed reporting and analytics feature.
Integrate Picreel with 700+ online tools to automate your workflow.
Pricing:
Annual Plan: $39.97 per month
Try Picreel now
One of the best simplest and cheaper solutions to build your email marketing list
Great to create pop-ups to get new subscribers, sales, survey responses, or offer deals and general information on your site.
Here's a quick overview of the intercom's most prominent features
Multiplatform support: It does not matter if your visitors come from mobile or Persona Computer. GetSiteControl adapts and supports both.
Real-time dashboards: Look into your email list, building statistics live. There is no delay in the refreshing time of your visitors' actions on your site.
Upsell and Cross-sell capabilities
Inactivity tracker, Stop shopping cart abandonment pop-ups.
Pricing
Small plan: $7 per month (up to 20,000 impressions per month)
Medium Plan: $14 per month (up to 100,000 impressions per month)
Large Plan: $21 per month (up to 500,000 impressions per month)
Free Email List Building Tools
As a bonus, I researched a few tools that you can use for FREE.
Yes, these email list-building tools have some limitations on their free plans, but they are worth it! And in case you like them and want to fully use them, you can pay a small premium to up your game.
If you are new to the digital marketing business, SEO and blogging, you can start small with one of these tools and grow with it before paying a dime.
Powerful yet simple tool for all your marketing leads needs. Especially useful with its custom extension to get Linked in the contact information
I tested Contacout on LinkedIn with 10 contacts. I already knew the emails, so I would know if it get them right, which were really hard to get. I was surprised to see it got all 10 contacts.
Moreover, besides giving you email contacts, it actually has a module where you can design and send your mails.
Features
Chrome extension
Search Portal
Email marketing campaign manager
Affordable
Simplicity and effectiveness
Pricing
Free Plan: $0
Personal: $29 Dollars
Sales: $99 Dollars
Recruiter: $199 Dollars
Team: Custom
Turn passive visitors into leads and potential customers with customized popups, flyouts, and other high-converting tools.
One of the best email list building free software. Privy is one of the fastest tools to set up and automate Shopify users. This email list building tool has been installed in more than 800,000 eCommerce websites and has moved more than $7 billion in online sales.
Privy specializes in eCommerce types of websites, according to their website.
"Stores using Privy generate an average of $33 per email subscriber, and Privy Email users have generated over $475 million in campaign revenue."
Privy has one of the best customer services representatives,s there is, seven days of a week, 24 hours a day.
Features
Unlimited emails send to your list to maximize your email list building efforts
Cart Abandonment Emails: rescue around 20% of the abandonment shopping carts
Automatic delivery of campaigns after sign-up: Normally, the email list building tool charges an extra fee to automate email deliveries. Privy does not.
Free onboarding session for migrating users: Do you already have another software you use, no problem; Privy customer care will help you migrate your contacts for free.
Besides emails, Privy also supports SMS, which can increase your rate of interactions with your customers.
Pricing
Privy Free Plan: $0 per month
Starter Plan: $15 per month
Growth Plan: $45 per month
cost-effective lead capture and email marketing that also has a Free plan. Mail Munch provides a toolkit that provides users with an engaging experience.
It offers hundreds of templates that help you create more leads and convert them into subscribers.
It offers many different options like popups and cart abandonment prompts, spin wheels, coupons, forms, and many others.
Moreover, you also have the opportunity to create a new page from zero or use one of the pre-built templates provided.
In other words, you can get as technical as you want, but no coding is necessary to get things going, which is ideal for a beginner blogger or eCommerce.
Features
Automated welcome emails: preprogram your automatic email welcoming series and start building.
Beautiful curated templates for your visitors
Drag and drop page builder: No coding is necessary to use mail munch
Mobile responsive layouts
Advanced display rules: you can use complex rules to deliver laser-focused campaigns to get the max out of your email list, building free software.
Thousands of Images for free to get creative with your popups and forms
Pricing
Free Plan: $0 per month
Premium: $13.99 per month
Custom: variable per month
If you are looking to get a list building management plugin for free, PopupAlly is the lightweight WordPress plugin you are looking for.
Also, Popup Ally has all the advanced features of the best-paid apps. Features included: lightbox pop-ups, opt-in forms, exit intent pop-ups, etc.
It is a simple plug-in but powerful and effective and counts more than 8,000 active installations. Not bad for a minor player in the email marketing world.
Features
Mobile-friendly for popups and opt-in forms
Horizontal and vertical popups
Drag-and-drop editor with full customization. Including unusual shapes such as circles or triangular if necessary.
Statistics Tracking and A/B Split Testing
Add Videos, Social Media Sharing Code, or Anything Else to Your Popups and
Pricing
You dont need the pro version initially; Popupally is one of the most complete free tools.
However, if you are willing to try the pro version, they have a 30-day money-back guarantee.
PopupAlly: $0 per month
PopupAlly Pro: $99 per month
Best free email list building tool for eCommerce and capture of contact details
OptiMonk is a complete and specialized software despite having a free list-building plan. This tool allows sidebars, popups, notifications, and even full screens
More than 40,000 sites count on Optinmonk for day-to-day services and lead capture.
Optimonk is a free tool proven to be competitive in the eCommerce sphere.
Finally, the strength of OptiMonk is that it is excellent at optimizing your leads and converting them into sales more than just a list of email outreach.
Features that make this one of the best list building tools
Advanced A/B testing
Vast Gallery of examples to make the process of building popups a lot easier.
Excellent at identifying exit intent of the user by inactivity or page usage, triggering unique popups to keep engagement.
Scroll-Based Triggering: Display your message after a visitor scrolls down at least X percent on your page.
No Coding is needed. You just need to select the email capture you would like to use.
Pricing
Free: 0$ per month (up to 15,000 views)
Essential: $29 per month
Growth: $79 per month
Premium: $199 per month
Custom: depends on your personal needs above premium.
Top choice for engaging website visitors live.
In short, If you are looking for free tools with excellent value, you should consider HelloBar.
The strongest feature of HelloBar is exactly that: Bars.
HelloBar hast outstanding floating or fixed bars that can scroll along with the visitor or seamless pop out at a set time or position.
This list building software Up to 5,000 interactions a month, a 100% FREE is excellent for anyone trying a free tool for the first time.
Hello, Bar specializes in guiding visitors' traffic to specific pages on your website.
Here's a quick overview of Hello Bar most prominent features
Can have Integrations with other frequently used tools such as Shopify, Wix, MailChimp, WordPress, etc
Plug and Play installation. Double click the install button and start creating.
Free A/B testing might not be as good as others, but it is worth it for FREE.perfect
On-site pop-ups and bars to redirect traffic to pages of interest.
One of the best-automated list building software.
Pricing
Free Plan: $0 per month
Growth Plan:$29 per month
Premium Plan: $49 per month
Rich Elite Plan: 99 per month
---
Omnisend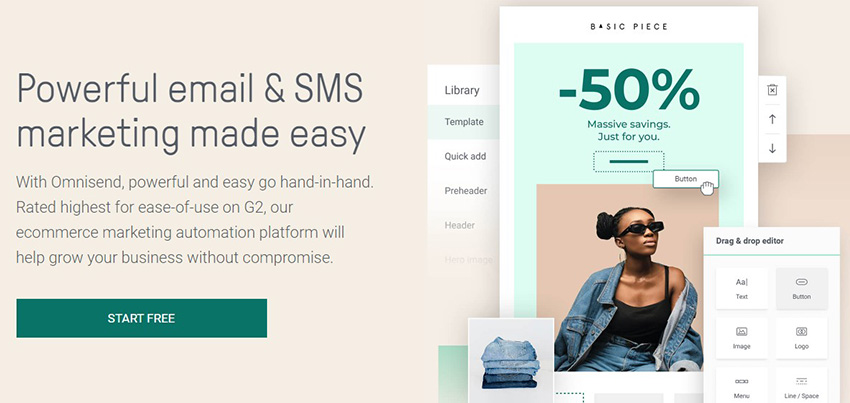 Omnisend Its a great entry tool that supports not only email but SMS numbers list building as well. This full-stack tool can create pop-ups, web-push, and many other options.
Omnisend is a simple but powerful tool with several features such as:
Multiplatform Cookies: The information captured in cookies can be used in other platforms such as Facebook, Instagram, Google, Tik Tok, etc.
Marketing Automation: You can create a funnel of emails and/or SMS. Once you get a lead the process starts automatically.
Pricing: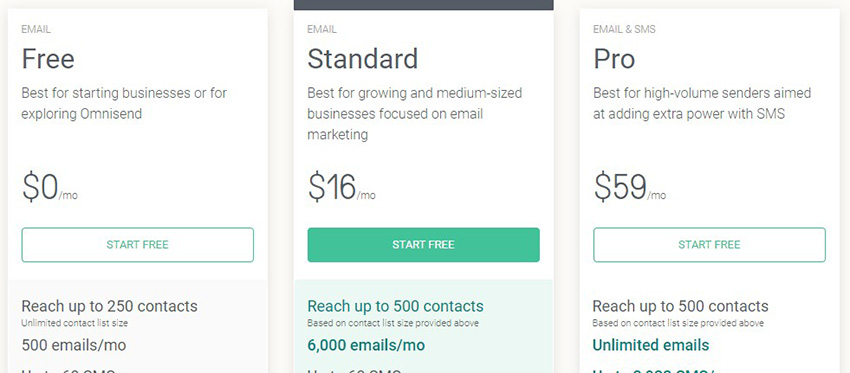 Pricing
Free: 0$ per month (500 emails)
Standard: $16 per month
Pro: $59 per month
Omnisend is a simple, economic yet very powerful tool that even offers free email list building software.
Best WordPress Email list building tools
WordPress is the most popular CMS in today's market, with estimates putting its usage at 42.9% of the entire Web and 64.1% of CMS-built websites.
This means there are endless supply plugin options that can be used for email lists and marketing campaigns alike! One of them is plug-ins or automated list building tools
Mail OptIn is an email capture tool with popups, slide-ins, etc.
It has compatibility with WordPress widgets in your site's sidebar or desktop notification bar!
It is not only an excellent automated list-building software tool, but it also has hundreds of templates that I have tried myself!
MailOptin is a great option if you want to try a list-building tool that seemingly integrates into WP. I Certified it.
Pricing
Standard: 99$ Annually
Pro: $199 Annually
Agency: $399 Annually
Lifetime license: $999 This is the only automated list building tool that has a lifetime license. If you like it you can get great savings long term.
If MailOptin got your attention go check their site for extra information
Email List Building Software FAQ
What is a list creation tool? or What is a list-building software?
Building an email list to reach out to your visitors and add them value or send the offers has been a strategy since email was created.
However, creating a list can be a slow and grueling process. A piece of software that through automation, prediction, and digital marketing helps you get leads and collect email addresses to build your email list.
What to look at on an email list building software?

Ease of use
The best tool for you should be easy to use, it does not matter if you are an expert or a beginner, new to email list building. The software should not need code or at least not be code-centric. Moreover, you or your company should enjoy and feel comfortable using the tool
Integrations
Also, Integrations are important. If the application you are using is great but cannot integrate with other tools don't use it. In other words, blogging and email listing are complex subjects and it is most likely that no single software will have all the answers.
Potential of analytics
This goes almost for any tool, analytics are critical to pushing any project forward. If you don't know or see what you are doing and its results, you don't know where you are going in the future.
The tool should give information about the customers/visitors but also give insight into the company or blog performance
Scalability
If you are doing this for real, you are planning on growing. For this reason, the chosen tool needs to be flexible to adapt to your present situation but also your future one.
How do you build a list?
1. First, you need to choose a good platform, free or paid. Refer to the list above for the best ones.
2. Create content or incentives that are attractive and engaging
Invite to sign up
3. Offer exclusive content or deals for the email subscribers
Social media
4. Use exit-intent pop-ups.
What are list-building tactics? 

Identify the best part of your website for the opt-in form
Create free and VALUABLE content
Guest post but not anywhere, guest post on websites that align with your strategy
Use people's first names
Test different opt-in forms
Bonus: Here 5 tips or tactics to get great results when building your list.
Conclusion – Summary
In Conclusion, this was a guide towards the best list building solutions including Free ones because I also had to start at some point and I know what it is to work with a budget.
From now on if you need to generate leads, gain more subscribers to your email list, or create automatic email campaigns these list building tools can help
What is the best list building tool?
In short my summary.
Best email list building tools
OptinMonster: Best for exit-intent pop-ups.
OptinMonk: Best overall list building tools. (Still using this one after a few months of trial)
Outgrow: Best to engage website visitors with real time statistic.
SleekNote: Best UI and ease of use.
Bloom: Best to integrate with most popular email marketing platforms
Thrive Leads: Best for speed and lightweight implementation (SPEED)
GetSiteControl: Best "bank for the buck" solution
Best free email list building tools
Privy: Best one of the free tools at speed of creating popups
MailMunch: Most beautiful free templates
PopupAlly: Best free WordPress compatible plugin
OptiMonk: Most advanced list-building tools that offer a free plan
HelloBar: Best at guiding traffic through different funnels
I hope you enjoy this curated list that I worked hard to construct for you guys.
Did any of these list-building tools call your attention? which do you plan to check out? let me know in the comments!
Also, if you are curious about any specific tool that is not featured here do not hesitate to ask me in the comments or via email and I will work on it.
See you on the Metaverse.